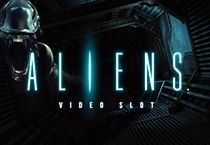 'Aliens' is back from the 80's!
If you liked the 1985 Sci Fi thriller Aliens from James Cameron, you will be delighted in knowing that NetEnt and 20th Century Fox have worked together to deliver a slot game based on this movie. The game is now here on Slot Fruity Casino, and it really is a must play for all slot lovers because of the simple fact that it is way much more than a slot game!

The game has some mind-blowing game progression and features thanks to NetEnt and equally competent 3D graphics and sound effects from 20th Century Fox.
Movie like theme and stunning game progression
The reason why this game is whipping up so much of fuss and fans is because of the fact that NetEnt has outdone itself in designing this slot game. Once you start playing this 5 reel, 15 paylines slot game, you immediately understand that there is a lot more than a typical spin to win slot game going on.
Much like the movie, the game theme is also all about destroying an alien infestation and getting rid of their hive. But rather than a 2 hour blockbuster, NetEnt has a more structured 3 level game progression in mind.

In the first level called "The Search" you spin the reels and find traces of an alien infestation. After 9 steps and collecting up to 6x multipliers, you progress to the 2nd level called "The Encounter". In this level the mission is survival and every winning combo you get on the reels gets you closer to the third level and kills a bunch of Aliens too. In the last level called "The Hive", you tackle the queen and her hive stand a chance to win up to 3817 times your stake.

Conventional features

Though the game theme is different, the features are quite conventional. Aliens has a wild symbol which appears on reels 2 to 5 in the first level and anywhere on the screen from the second level onwards. The second level also features multipliers and can be considered the main game since it offers you chances to win up to 240 times your stake amount with overlay symbols. The third level has 5 re-spins which take effect as soon as you start and also can be considered a bonus game of sorts.

Conclusion

To wrap it up and put a ribbon on it, NetEnt has certainly done a great job in developing Aliens. It not only has the slot game part of it right, but even ends up working in a first-person shooter game perspective! with stunning graphics, rich sound effects and ample rewards, this game is a must play for all slot gamers!

Also read about online LIve Roulette here