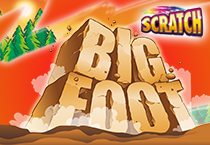 Get big wins with the Big Foot Scratch game
The Big Foot is a common myth amongst campers. Whether there is any truth to these rumours can only be found out with time. But that did not stop NextGen from building a game around it. The Big Foot Scratch game is one game that has a really simple theme and friendly gameplay. Just like camping is meant to relax your spirits, this scratch card game also has a relaxing ambience. Being a scratch game, there is not a lot of animations and graphics to look forward to. But the game is presented well and has some fun features of its own.

Game objectives and rules
The game objective of Big Foot Scratch is really simple. All you need to do is get a matching set of symbols as you scratch your way through this 3×3 array of scratch cards. The more matching symbols you get, the higher your wins are. To get a proper winning combo, you need at least three matching symbols. The payouts are given based on the paytable. Tip: Also try Big Foot Slot Game
The rules of the game are pretty simple too. To get started with the game simply choose abet amount. Big foot Scratch has a flexible bet range from 20p to £ 200, and this can help you set the pace of the game. Once you fix your stake, simply press on the play button and start scratching away. The more matching symbols you get, the more your returns are.

Game features
The game does not have a lot of features to boast about like it's slot game version. Being a Scratchcard game there is very little that can be done. However, the game does have some really high returns for various symbols. The Big Foot symbol is the highest valued and gives a return of 1000x your stake.
The footprint and the valley are amongst other high paying symbols, while the owl and Big Foot sign post are the lowest paying ones in the game.
Summary
While Big Foot Scratch may seem to be a game with not much going on, it must be kept in mind that it is just a scratch game and there is not much that should be going on! The game has an RTP of 90.863%, which is a little low compared to other games. But with the promise of getting 1000x your stake if you're really lucky, the game is worth a try.