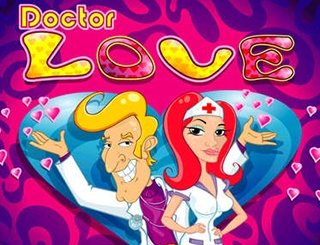 Looking for a slot game that'll give you a couple of chuckles with its animated interface? Then look no further than Doctor Love, a quirky slot that provides the right amount of cartoony madness to make your online gambling fun.
Doctor Love Slots – Cartoon Delights and Lots of Slots Hilarity
Doctor Love is a 5 reel, 20 payline slot game that has a cartoon interface with a hospital theme. You'll find a sexy nurse, a bandaged up patient and plenty of standard hospital symbols about the place like stethoscopes, get well cards and flowers. The interface itself wins the game several points in the eyes of fans who like playing cute looking adventure slots.
In this game, the cheesy Doctor Love himself is the wild symbol and you can win 5000 coins if you find five of these symbols. Other large payouts can be gained from the bandaged up patient, who will grant you 750 coins and the sexy nurse, who will give you 1500 times your original bet if you find five of these symbols on a single line.


The love meter sign is the scatter icon in this game. It offers you two to 100 times your initial wager, and it can also activate the free game bonus in the game. If you get three scatter icons, you can win up to 10 free spins, four scatter icons give you 15 free spins, while five scatter icons give you up to 20 free spins. Any games played on these free spins attract a 3x wager multiplier and you can get even more free spins if you find additional love meters. That's a total of 40 free spins so keep spinning!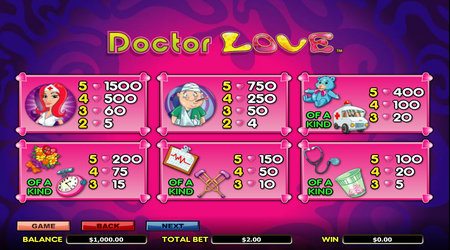 There's also the standard Gamble Feature, which will let you double your wager amount if you guess the correct card colour, and quadruple your wager amount if you guess the correct card suit. The gamble feature can be used up to five times in a game.
Why play Doctor Love?

Doctor Love is a comical slot game for those who are tired of all the serious looking ones. With a jokey soundtrack and cartoony game graphics, it's bound to get you feeling better about your sick days in no time. It also offers some great bonuses and chances of winning, so there's plenty in it if you are looking to boost your earnings. The game offers an RTP of 94.5%, which is a little below the recommended amount, but with 20 paylines, it offers plenty of opportunities for you to create a winning combination. Try your luck with the strange Doctor Love, today!
Also see, Doctor Love on Vacation Slots