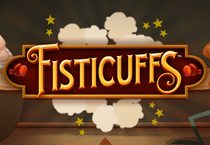 GET YOUR FISTS UP FOR FISTICUFFS
In a boxing game between a heavyweight and a lightweight who would be the likely winner? The only way to find out is when you play Fisticuffs. Rather than boxer skills, what is going to determine the winner will be your luck! In this game from Netent, we see that the plot is all about boxing where two contrasting characters face off. Set in the 19th-century boxing ring, the symbols seem to feature everything needed right from the central characters to even a ringing bell.
The animations are smooth and the sound quality is superb. The game certainly does deliver everything you expect from a slot game and a boxing game wrapped up in one. The game offers some amazing features that are guaranteed to make you go home a happy person with a full wallet if luck is on your side!

HEAD SMASHING FEATURES AND BONUSES
When most games have just one wild going on, Fisticuffs features two wilds that can flip the game in your favour. The game has a straight wild which is triggered when you get the heavyweight on the central reel. He pulverizes everything in that row and gives you a winning combo. But the second wild is more interesting and quirky. It is triggered when the lightweight comes in any of the corners of the outer reels. Here he attacks the heavyweight from either over the head or below the belt and gives you wins. This is called the boxing wild feature in the game.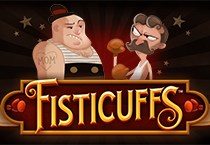 Besides the boxing wild, you also have the usual wild features which are triggered when you get the wild symbols on reels 2, 3 and 4.
The best part is that you also get free spins every time you trigger the boxing wild feature!
One of the other main attractions is the excellent animations and sound the game has to offer. Netent has certainly done a good job with the animations. This is especially visible during the boxing wild round!

SUMMARY
Fisticuffs is a must play game that every boxing lover, slot lover and animation lover must play! With rich features, a 96.7% payout percentage and a 100,000 coin jackpot, the game also does do huge favours for a person in search of some serious money! Play Fisticuffs on Slot fruity casino today!