Jackpot Jester Wild Nudge Slots
Go Back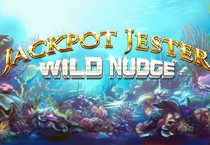 Here's a retro style slot game that is a throwback to the classic slot games, complete with cherry symbols and a feel of a Vegas Casino. The Jackpot Jester Wild Nudge game is meant for high stakes players who want to play a wild game of slots.
Ride the Wild Side
From the development team at NYX Gaming, Jackpot Jester Wild Nudge is a twist on the Jackpot Jester 50000 online slot game. It features the same great features, with an added nudging wilds feature. While this slot is meant for experienced gamblers only, it can be quite expensive to play and there are very real chances of you folding completely.
The Jackpot Jester Wild Nudge game has a Las Vegas casino background so you feel like you are at a physical casino. It even features elevator music so you really feel like you're right there. There are two 3 by 3 reels so that players can start with the bottom reel and then wager any of your winnings of over 100 coins on the topmost reel to try for the ultimate jackpot.


There are retro symbols flavouring the game like cherries, plums, lemons, bells and 7's, and there's even a sexy looking female jackpot jester. The bottom reel begins by paying up to 40 coins for three cherries, while 3 lemons can get you as many as 60 coins, 3 plums can get you as many as 80 coins, 3 strawberries as many as 100 coins. In case you are lucky enough to get bells, you can fetch up to 200 coins, while jewels get you up to 300 coins, 7's get you up to 400 coins and jesters can get you a whopping 20,000 coins.
If you manage to hit the top reel, you stand a chance to win the 100,000 coin jackpot. If you want to win the jackpot, all 9 slots on the top reel should have jesters on them either as stacked symbols or nudged in using the super nudge feature.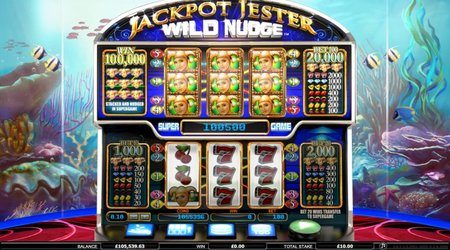 You can begin your wager with either 10 or 20 stakes for each spin. The higher your stake, the better your chances of winning more cash, so it's wise to go in for a higher stake.
Why play Jackpot Jester Wild Nudge?
Jackpot Jester Wild Nudge is a fantastic throwback to the classic slots game and the graphics, design and music are all designed to make you feel like you are playing a retro style slots game. While the game has dangerous stakes, you also have the potential to win big with it, so the risk is all worth it in the end.