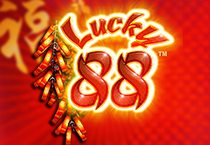 Get some Chinese fortune, the Chinese way in Lucky 88
Lucky 88 from Aristocrat was originally a land-based casino game. But the game's success inspired the developer to make an online casino version of the game, and it is packed with fun features. The game has a Chinese theme and it is based on their perception of luck. Just like the number 7 is considered lucky by common people, the Chinese believe the number 8 is lucky. Besides this, the Chinese also believe that various other animals and objects like the lion, crane and paper lanterns are all good luck charms with some symbols having deeper meanings.
This is the reason why you will find all these symbols in this 5 reel and 25 payline game. Though the graphics and animations in this video slot game are great, the game does offer some unique features that boosts your chances of winning and also gives you a fun and thrilling slot gaming experience.

Flexible paylines
Lucky 88 has some really flexible paylines. Though the game does have 25 paylines, it only supports 25 coins in total. Each coin has 2 ranges for setting bets based on the mode of the game you decide to play. If you play the game in the conventional mode where you only get normal features with a normal chance to win, the coin range is from 25p to £ 50. But if you opt for the Extra Choice feature mode, then your coin range changes and becomes within the range 30p to £ 60. The extra choice gives you better odds to win big sums with better features and better payouts.
Game Features
Lucky 88 has conventional game features like wilds and scatters which are triggered by the emperor and lantern symbols respectively. Getting 5 wilds together can give you a massive 888x stake multiplier.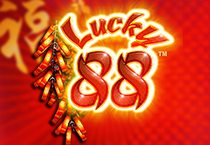 Three scatters trigger the bonus game round and you will have to choose between free spins and roll a dice bonus games. The free spins can be selected anywhere between 4 to 25 free spins with different stake multipliers for each spin option. The roll a dice feature lets you keep on spinning the reels as long as the number 8 turns up when you roll the dice.
Summary
The Lucky 88 slot game from Aristocrat is game filled with features. Most of the big wins in this game can be obtained only from the bonus rounds when you play in the extra choice mode. The base game does offer decent wins, but if you are looking for huge payouts, then the bonus rounds are the place to look for.