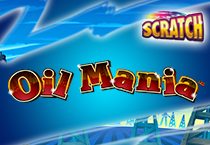 Dig Deep for Oil with the Oil Mania Scratch game
Oil is now considered equivalent to gold and diamond in terms of importance. But the truth is that the black gold is actually racing ahead of gold and diamond in terms of value because of the fact that it is one of the fastest depleting resources in the world. Whether this is what prompted NextGen to come with a game with this concept or if it was something else remains a mystery, but the Oil Mania Scratch game has its own way of being a mystery too.

Game theme
The Oil Mania Scratch game is centred around a business tycoon looking for a prospective investment in the oil business. He searches far and wide for a fruitful oil field in his golden car with a chest full of money, ready to buy the field in a moment's notice. The scratch card game has this much obvious thanks to the symbols in it like the business tycoon, the golden car, an oil rig exploding with oil, an oil worker, a chest of money and a profit graph.
Gameplay and rules
The objective of the base game is just like all other scratch card games. You need to get at least three matching symbols while scratching the cards to get a good win. But the point is you never know what is hiding in the scratchcard until you scratch it, and hence the mystery. Oil Mania Scratch has some really flexible bet amounts ranging from just 20p to £ 200 and this can help you take the game in whatever pace you want to progress. To get gaming simply choose a stake amount and click on the play option. You can either scratch the cards one at a time or use the reveal all button to save time and find out what lies in the scratch card instantaneously.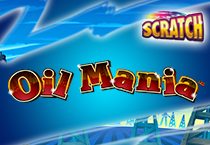 Paytable Features
Depending upon the number of matching symbols you get, you get a stake multiplier as a reward. All you need to get is 3 matching symbols to trigger these rewarding multipliers. But the symbols themselves have a significance as each symbol offers a different stake multiplier. The business tycoon gives a 1000x stake multiplier and it progressively decreases to 2x for the profit chart.
Summary
Oil Mania Scratch is one game that can be played for the purpose of relaxation. The scratch card game is simple and easy to play and does not have you get overly nervous or overexcited like the slot game. The scratch game does have some thrills of its own.