Do you like the mysteries of the night? Then come explore this deep, dark and lovely woods-themed game which lets you see the wonders of the night through an owl's eyes. Explore these magical woods in the Owl Eyes slot game, and win big cash prizes.
The Woods are Lovely, Dark and Deep
And that's certainly true of the slot game as well. The Owl Eyes game has 5 reels and 50 paylines. There's a lot of effort taken to create the ambience of the woods at night for the game, so be prepared for the sound of crickets, creatures of the night and some nice looking graphics that add just the right amount of magic without making you feel like you are in the middle of a horror movie.


The game lets you explore the woods to look for the game symbols, which include numbers as well as letters. If you find 3 – 5 matching numbers or letters, you stand to win anywhere between 5 to 200 times your original wager. If you find five leaves, you can win up to 500 times your original wager, while finding 5 mushrooms will get you up to 600 times your original wager.
Another high winning symbol is the badger. If you spot five of these you can win up to 800 times your bet amount, while finding five living trees can get you up to 1000 times your original bet amount.
When you see owls appear on reels 2, 3 and 4, the wild bonus is activated. You can use these symbols to replace any other symbol except for the scatter symbol. Stacked wilds can get you five free spins.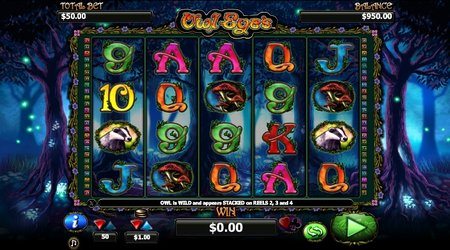 The scatter symbol in the game is that of the Scattered Moon. Three scattered moons can get you five free spins. If you have three of the symbols, you can also win five times your wager, while four of the Scattered Moon symbols can win you 20 times your wager and five Scattered Moon symbols can let you win a staggering 100 times your wager.
The gamble feature lets you double your win by guessing the right card colour or quadruple your win by guessing the right card suit. You can gamble up to five times in the Owl Eyes game.
Why play Owl Eyes?
Owl Eyes is a game that stays very true to its theme. The owls, the badgers, the night music, all add to the mysterious effect of the woods. That apart, the winnings can be slim compared to that you get with other slot games. If you are looking to win higher stakes and big wins.