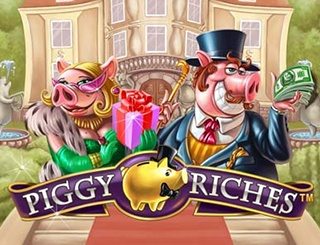 Piggy Riches
Want to be as rich as a pig? In Piggy Riches, you get to play to be as wealthy as this pig couple that have purses filled with wads of cash, sackfuls of gold and diamond encrusted insignia. Maybe they'll let you in on some of their wealth if you'll play nice!
Wrestling with pigs
The game's theme might seem odd at first, as it is based around a rich pig and his wife. But all is forgiven when you see that the slot is a high variance one, which means that there's plenty of cash to bring home if you can throw enough money at this odd couple. This family clearly has a lot going for it as Mr Piggy Riches keeps throwing cash into the air every time you form a winning combination.


Piggy Riches was developed by NetEnt, which is known for its great games. In keeping with their tradition, this game also has some rich graphics and animations that really help you feel like spinning those reels some more.
Piggy Riches has 5 reels and 15 paylines, and has a jackpot worth 2000 coins. You can bet for as low as 15p, to as high as £75 for a spin. The game has classic bonus features like the wilds and the scatters. If you hit use the wild symbol to make a winning combination, you get a 3x wager multiplier so that you can strike it rich in the game.
If you get the scatter symbols in sufficient numbers, you can enjoy free spins in the game, all of which come with multipliers. If you get three scatter symbols, you can choose to play 22 free spins with a 2x multiplier, 15 free spins with a 3x multiplier, or 9 free spins with a 5x multiplier. If you get four scatter symbols, you can choose between 25 free spins with a 2x multiplier, 18 free spins with a 3x multiplier, 14 free spins with a 4x multiplier, or 10 free spins with a 6x multiplier.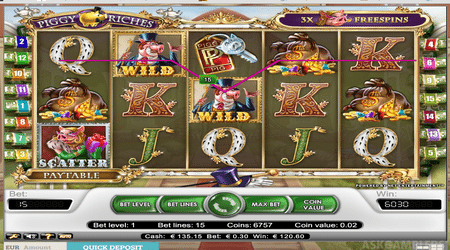 Why play Piggy Riches?
The game has a nice feel to it, given the kooky theme and the fun graphics. While it is a high variance slot, the payouts are few and far between, so don't expect to hit the jackpot very often with this one. The free spins feature is varied, which is a nice touch, but it cannot be triggered very often. That said, if you get an additional scatter symbol during the free spins round, you get one more free spin.