Fruity FruitZ Pocket Slots | SlotFruity.com
Go Back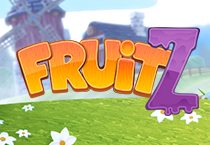 PLAY NOW! Fruity FruitZ Pocket Slots at SlotFruity.com
Fruits are very refreshing and healthy, but this time fruits are rotten and scary. Fruity FruitZ Pocket Slots by Foxium is based on fruits which turned into scary zombies with a little girl trying to kill them with a small gun. High definition graphics and well-designed theme with a soothing soundtrack in the background makes this slot very entertaining.
These Fruity FruitZ Pocket Slots have a variety of bonuses like free spins, shoot the jams, shoot the crates and other progressive jackpot prizes. This slot is compatible with Android and iOS mobile devices.

Overview Of Fruity FruitZ Pocket Slots
This slot has 15 symbols with a 5×3 layout on the game screen with 25 fixed paylines. Wacky fruits like pineapples, watermelons, strawberries, apples and oranges are symbols with different payouts.
Playing card numbers with these symbols ensure other bonuses.  A freaky tomato is a Wild symbol which can create a winning combination with all other symbols on the reels. Besides a different theme, the gameplay in this slot is very simple.
You can easily adjust your bet amount from 0.25 to 62.5 by using the UP/DOWN buttons on the screen. When you press the 'Spin' button these wacky symbols start making winning combinations.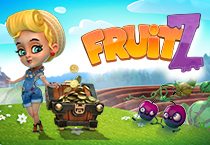 The Bonus Features Of This Online Slot
If you will help the little girl in this slots game, she will definitely reward you with some free spins and other attractive bonuses.
Card collection bonus: Whenever a chest lands on the reels, you will collect a card. There are 8 sets of cards with four cards in every set. When you complete a set of cards, you will receive a 0.5x multiplier and a payout based on the collected card.
Bonus wheel: When three wheel symbols land anywhere on the reels, a Bonus Wheel will be triggered on screen. This bonus wheel will decide bonus features you win from three special bonus features.
The Three Special Bonus Features In This Fruity FruitZ Pocket Slots
Shoot the jams: In this Fruity FruitZ Pocket Slots special bonus feature, 12 jam jars will appear on the screen. You are given just 3 bullets for your shotgun. By shooting at the jam jars, you will open them and receive a prize. You can get more bullets from a couple of jam jars.
Shoot the crates: There are 12 crates that will appear on your screen and you have just 3 bullets to shoot them. These crates contain cash prizes and extra bullets.
Free spins: You will receive 8 free spins with a sticky tomato Wild. You can also win three more free spins during this feature.

To Sum Up
As Fruity FruitZ Slots are always very entertaining, FruitZ by Foxium gaming is also very interesting. With so many bonuses features, this slot brings variability in gaming. This video slot comes with an RTP of 96.96%. Wild action Immediately!