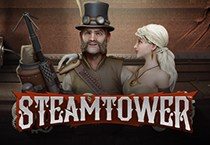 A FIERY DRAGON AND A STEAM TOWER
If you have always thought the story of a knight in shining armor rescuing a princess from a castle guarded by a dragon needed a modern twist, then you have it with Steam Tower. This game coming right from Netent's arsenal of thrillers, features the same story with a modern twist.
In this game you see that the theme is all based upon a background of a 1900's industrial era. Though the damsel and the dragon remains the same, the castle is replaced by a Steam Tower and the knight is replaced by you, in a sense of speaking. The game is progressive in nature and your wins keep getting multiplied as you progress level after level. The game is rich with features and gets very interesting as you progress in it.
STACKED WILDS, SCATTERS AND MULTIPLIERS TO BOOST YOUR WINS
Steam Tower does feature almost everything that can help you get big wins. The best part about this game is that it never gets boring and only keeps your excitement at its peak levels. Not only is the game filled with wilds, stacked wilds, free spins and progressive multipliers, you also see that the game gets more challenging as you climb up the levels.
But don't lose heart when you hear the word challenging because Steam Tower is one game that is equally rewarding as it is challenging. the game has around 42 free spins that is well distributed throughout the game rather than making the game a random win game. Wilds are in the form of stacked wilds and the gentleman with the grappling hook is the symbol you need to root for. Getting a stacked wild can get you up to 10 free spins.
The multiplier meter keeps boosting your winnings as you progress from one floor to the next one. If you do succeed in reaching the top floor, then you get to rescue the damsel in distress and win the Jackpot!
SUMMARY
With a payout percentage of about 96%, Steam tower is a must play game for anyone looking for a little bit of excitement. The game progression and game play is fairly easy. But as you reach floor 5 or higher out of the 16 floors, you see that the game gets more challenging. If you are more about the fun of playing a slot game, than getting all the wins, then playing this game is a must-do for you.