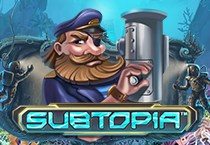 DIVE INTO RICHES WITH SUBTOPIA
Deep sea diving to find a treasure chest full of gold coins is not restricted to movies anymore! With Subtopia, the deep sea diving themed video slot game from Netent, you can explore the depths and get rich in the process. Rather than sitting in the shores and fishing for tidbits, its time you took matter into your own hands. This 3 row, 5 reels and 20 paylines slot game gives you the freedom to decide the amount of money you want to bet in. But with a wild, scatter and even a multiplier all working in your favor, it would be wise to choose a medium or high stake level.
With apt animations and fitting sound effects, the game does give you a realistic feel. The best part about this game is that it is progressive in nature. How? As you go deeper in to the game, you don't only get better chances to hit the jackpot. The Multiplier meter also keeps increasing its rate as you progress in Subtopia.
AN OCEAN OF FAVORABLE TIDES AND FEATURES
The second you gear up and get to gaming, one thing becomes very clear. The features in Subtopia are regularly recurring and you inevitably hit a winning combination no matter what sooner or later. With wilds, scatter and free spins well distributed to give a cumulative theoretical payout percentage of 96.5%, it is no surprise that players always win when playing this game.
The wild symbol in this game is the deep sea diving mask. It has the power to substitute any other symbol except for the scatter symbol. Every time a wild comes on your play screen you can be sure you hit a winning combo one way or the other.
The Scatter Symbol not only rewards you with free spins but it also multiplies your winnings during the free spins mode from 2x to 6x! But the best feature of this game is the progressive multiplier. As you foray deeper into the waters, you see that the multiplier meter increases up to 5x to boost your winnings!
SUMMARY
From wilds to Multipliers, Subtopia has everything needed to make your slot playing experience a rewarding one. Not only do you get regular wins, but with the aid of the multiplier you get a chance to multiply these regular wins to a rather large amount. Clubbed with fitting sounds and visual effects, the game has the ability to keep you immersed in the waters of riches.