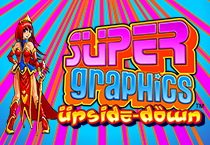 Get ready for an action filled Japanese slot game that features a classic slot game with a bonus round that literally turns the reels upside down! With cute kawaii style symbols and its medium variance payout, Super Graphics Upside Down brings back the magic of slots for the die hard fan.


Get in on the Anime
If you like manga or anime, as well as your good old online gambling, this Super Graphics Upside Down game is destined to please you. The graphics included in the game are bound to get an 'awww' out of the most hardened of online punters and the possibilities to make real cash are just great given that there are 5 reels with 20 paylines. That's enough for you to ignore the bad English and the overtly Japanese tones in some of the other aspects of the game.
The symbols included on the Super Graphics Upside Down game are some of the classic slots icons like lemons, melons, plums and sevens. There are also Japanese symbols like a waving cat and Manga characters. In case you get 5 matching symbols of grape, watermelon, plums or lemons, you can win a 20x wager multiplier. If you get 4 of these symbols, you can get a 10x wager multiplier, while 3 of these icons will win you a 5x wager multiplier.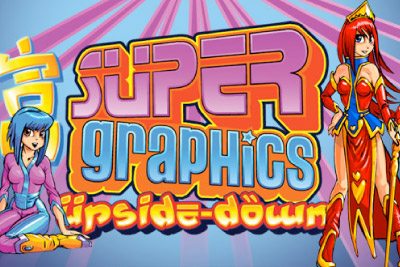 If you get combinations with the manga characters, you can get payouts ranging from 10x and 80x. If you get the red sevens, you can get payouts from 250x for 5 of them, 100x for four of them and 50x for 3 of them. The blue sign is the wild symbol and can be used to substitute for all of the other symbols except for the scatter symbol. If you do get the wild symbol, you can win up to 5000 the wager amount.
The scatter symbol is the super graphics logo and is triggered whenever three or more of these symbols appear on the reels. That's when the game turns upside down and Satsuki appears on the scene. Satsuki basically is your female anime host explaining how the free spins round works. You get 15 free spins and you need to remember that they will be played in the opposite direction since they are upside down clumped symbol reels.
Why play Super Graphics Upside Down?

Super Graphics Upside Down is a great game for fans of Anime and who don't mind listening to a lot of Japanese if it means they get to enjoy a low to medium variance slot game. The Super Graphics Upside Down game's upside down mode is a bit confusing but it does pay a lot so it is worth taking the chance to figure it out.