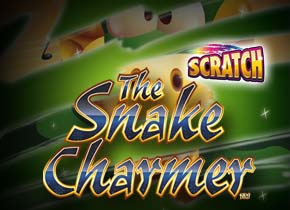 Charm your fortune with the tunes of The Snake Charmer Scratch Game
Ethnic games have a completely different feel to them which can get players into a different mood rather than the thrilling and exciting mood that other games offer. One of NextGen's most popular ethnic games was The Snake Charmer Slot game, and now it has been modified and rolled out as a scratch card game in the name The Snake Charmer Scratch game.
The Snake Charmer Slot is remembered well for its Indian ethnic touch with a background screen of a sunset view next to the Taj Mahal. The game had some really soothing Indian tunes playing in the background that gave the game a relaxing ambience. NextGen has attempted to create the very same atmosphere with this scratch card game and has done so quite successfully
Game Objective and rules
The Snake Charmer Scratch game is a simple 3×3 scratch game where the game objective is just as same as all other scratch games. All you have to do is get 3 matching symbols to get a decent win. But however every symbol in the game has a weight of its own. So getting any symbol to match is not the aim if you are aiming for a big win. If you need a big win, you need to refer the paytable and get the symbol which has the highest priority.
The game has flexible stake levels and you can adjust your bets anywhere between 25p to £ 200. So you can easily set the pace of the game and either make it a low risk, low return game or a high risk, high return game. To play the game, all you need to do is fix your stake amount and click on the play or the autoplay button depending upon how fast you want to go through each game. The game also features a 'reveal all' option where you can click on it to see all scratch cards simultaneously.
Game Features
The Snake Charmer Scratch game has some really good graphics. But besides this the game also has some additional perks which are not seen in other scratch card games.
According to the paytable, the game offers you a stake multiplier of 1000x which is the maximum amount offered by the game. But other than this, there is an added feature when you get 3 man symbols. When you get three matching man symbols you are taken to The Snake Charmer slot game where you get 10 free spins playable on 25 paylines. This can give you some really hue returns.
Summary
The Snake Charmer Scratch is a game with some really good graphics and sound effects. The features and the bonus slot game can help you win some really huge returns when you play this scratch game.