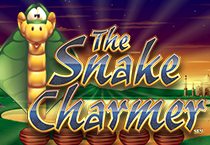 Hissing Snakes & Charming Tricks for A Mesmerizing Experience
The snake charming skill is not for only the rural folks proves The Snake Charmer Slot proves to you. You have all the snake charming accessories out there to get you addicted in the quest of discovering newer tricks. There are more than 200 such ways to keep you interested.
Get ready to experience the traditional art of catching snakes through magical and mesmerizing music, practiced millions of years ago. The creativity reflects in the animated symbols and accessories that open up new levels. Powered by NextGen Gaming, The Snake Charmer Slot can be played on all the latest gadgets, even on the go.
About Snake Charmer Slot
It has 5 reels and 25 paylines with classic Indian music matching the magical and rustic background theme. The scenic backdrop along a lakeside with golden sky drifts the players into ancient times. The game starts with a snake charmer dozing off on the snake baskets which potentially have snakes. The symbols include the typical jack, queen and numbers with lowest values. Snake baskets and musical punjis appear to give you higher wins than J, K, Q and other basic symbols. What gives you maximum money is a beautiful dame dancing adorably. This high paying symbol is followed up by an elephant which is the second highest paying symbol.
It is layered with excitement. You first unhide the lettered symbols and get upto 200 times your stake. Next its time for charming pipes and vicious snakes that reward you upto 400 times. When you get to elephants you are up for 750 times the stake value. And the maidens give you 1500 times your stake.
Key Features
You have the usual scatter symbol but in this case it is a superbly animated white turban man representing a typical snake charmer. When 3 or more appear, the player can hit bonus which is 'free games'. You get as many as 10 of them and you know you are in bonus mode when you see a snake hissing and dancing atop your screen.
Now it is time to know about the wild symbol which is green cobra in this case. It can replace all symbols except our turbaned man, the scatter.
You can choose from 1 to 25 lines and place bets of various coin values that are lesser than 5.
The verdict
The game is not very complicated in features and lets even a newcomer enjoy it. But the beautiful animations keep the players going. The hissing snake, dancing maiden and sleeping charmer have an element of fun which has the players come back for more. Try out Snake Charmer Slot for as low as 0.02 bet.