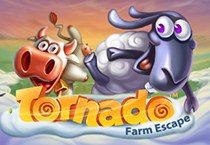 GET READY FOR THE HURRICANE OF RICHES WITH TORNADO FARM ESCAPE
If you thought Tornado Farm Escape is just another relaxing video slot game with nothing to do but stare at animal and farm symbols, then you might have to think again. Yes, this video slot game does have its core theme set on a farm with regular animals and the simple details of a farm life. But it also is quite susceptible to natural disasters as you will find when you play the game!
With storms and hurricanes blowing over your play screen regularly, you will see that these "disasters" are in fact what you really need to flip your pay lines and bonus coins in your favor. The game has fitting animations and sounds that ensure that the onset of the storm and tornadoes are well indicated. When you do get a knack of the game plot your heart sure will beat hard when you see the screen turn grey!
RAIN OF RICHES!
The game sure does feature a shower of riches on its players. With amazing features that are sure to make your day, Tornado Farm Escape is a must play game for anyone who is into casual slot gaming.
The game features a conventional wild symbol that can come anywhere on the reels and knock off all other symbols to give you a winning combo. But this is something common. What gives this game its originality and uniqueness are the  two special features only found in this game.
The storm feature gets triggered when a cloud symbol comes in any of the outer reels. In an animated progression this cloud swoops randomly over the screen rewarding the player with winning combos wherever it goes. If you think this is good, then wait till you hear about the feature that gave the game its name.
The tornado feature is triggers when you get a hot and cold symbol on reels 1 and 5. The tornado feature on the Tornado Farm Escape is actually a free spin and a win bonus wrapped together in one package. For every wild symbol that you get during the free spin mode, you get a chance to win quite a lot of coins that can flip the scales of fortune in your favor!
SUMMARY
Though it's quite obvious that Tornado Farm Escape could have done with a few more features like the elementary scatter symbol, it can be seen that the developers at Netent have done their part in making sure that the game does reward its players well. With a decent payout percentage of 96.5% and good animations and sound effects, the game does the job it is made for.