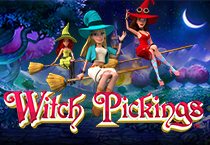 Brace yourselves! It's going to get crazy here with Witch Pickings! If you have the heart to face three super sexy witches, then this slot is meant for you! They bring in lots of fun elements and loads of entertainment and rewards, only if you are brave enough to face it all. Coming from the house of NextGen, this slot looks beautiful and is very appealing, with the three witches in red, green and blue adding their share of glamour. It has an amazing and very unique gameplay, and will keep you addicted for long!
Witch Pickings has an innovative gameplay!
With 5 reels and 25 paylines, you will have a blast at Witch Pickings! The reels are transparent and the layout of the entire slot is that of a fairytale land. The three witches rule the slot, and are dressed in blue, green and red. They beautifully match it up with their witchy hats and make it a colourful affair! When three or more of the witch symbols appear, they trigger five free spins that give you the option to pick three feature games you wish to play.
The best part about these features is that they do not overlap! Every witch has something unique to offer! The first one is the witch in Blue, she has three games with her – Symbols Pay, Symbols the Same, and Symbols Stacked. In Symbols Pay, any randomly chosen symbol will pay you a set amount – anything from 25 to 500 coins. For Symbols the Same, some symbols will randomly change into one of the witchy symbols, increasing the chances of winning big. The witchy symbols are – cauldron, castle, cat pendant, and potion bottles. In Symbols Stacked, one symbol will be randomly chosen and will appear as stacked.
The red witch, second in line, gives the following features – Wild Multipliers, Expanding wilds, and Extra Wilds. The green witch, the third and the final one, has the following features to offer – All Wins Multiplied, Pay Both ways, and Extra free spins.
Witch Pickings strictly follows its theme, and so does its symbols. The wild symbol is a Crystal Ball, which also has the capability to predict your future! If you land on them before hitting the Witches bonus, then you can see the future! The crystal ball can guide you to select the right feature for you. If the wilds appear after the bonus round, they are still worth 1000 coins!
Apart from the bonus rounds and features offered by the witches, the base game is also highly rewarding! Getting 3 to 5 cauldrons gives you 800 coins in itself! So you know what to expect from other symbols too!
Witch Pickings is all in all a very entertaining slot with a different theme. It is not only attractive in its layout, but the gameplay is appealing too! Play now to experience the awesomeness of this slot!