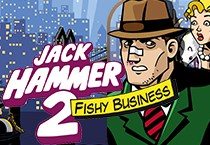 WIN YOUR JACKPOT WITH JACK HAMMER 2
For those familiar with the Jack Hammer slot game, Jack Hammer 2 is the sequel to it. For those who aren't, this game is all about the underworld! In this game, we see that Private Eye continues with his exploits in the underworld. But the foe in this game is Don Crabby. Typical to any other video slots game, the game opens with a brief animated sequence that introduces all the characters in the game. Set in a nighttime theme with the Grand City Bridge in the background, the game has an overall "something fishy is going on" air around it.

EXCITING FEATURES AND WILD SLOT SPECS
One thing that any slot game buff would love about Jack Hammer 2 is that it is a 99 payline game with 15 separate spinning reels. As if this does not challenge you enough, the game also has its wild symbols coming in some reels only instead of all across the play screen. But with a payout percentage of 97.1%, it is almost instantly obvious how frequently these features work for you.
The wild symbol comes only in reels 2, 3, 4 and 5 during the main game. The wild symbol has the power to knock off all other symbols except for the scatter symbol. But one thing worth noting is that during the free spin bonus, you get random wilds only in reels 2,3 and 4.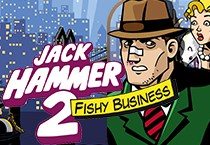 The scatter symbol rewards you with free spins. But though you have very limited probability of getting random wilds, you still have an inbuilt multiplier in the free spins round that boosts your winnings so that you are not disappointed.
Perhaps the best thing in Jack Hammer 2 is the sticky wilds it has to offer. Every time you get a winning combination, the winning symbols stick to their slots while the other reels spin to get you another winning combo. This largely boosts your chance of winning.
SUMMARY
Coming from Netent, the Jack Hammer 2 has perfected what features it has. With intriguing sound effects fitting for a nighttime theme game, the game does certainly keep you focused on the reels. With 99 paylines and 10 coin values, you can choose how rich you want to get. However, the game can certainly do with a bonus game since it is, after all, a sequel to a very reputed game.