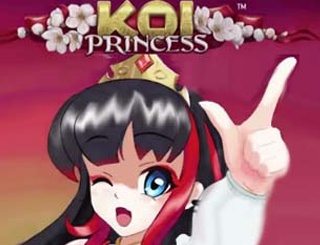 The Koi Princess is a Manga based slot game that is all set to make you super impressed with all of the great bonus features that it comes loaded with. Get prepared to have a bigger wallet just to fit in all the cash payouts you can expect from this great game.
Many bonuses, so much fun
Koi Princess has a distinct Anime theme that will leave fans of the animated genre very happy indeed. There's a cute looking girl at the side of the screen watching as you spin the reels and she will reward you when you hit a bonus feature.
The game has 5 reels and 20 paylines, and is brought to you by one of our favourite game creators, NetEnt. The Japanese music in the background is very soothing and the animations are just right to give you that excitement when you are ready to play and win big with this game.


The game has six bonus features, which we'll try to explain here:
Bonus Bet: You can activate this feature at the cost of increasing your bet by two times for each spin. The great part about this feature is that it increases your chances of getting a random bonus feature activated, and can lead to some better winning chances.

Random features:
Random wilds: You can get four to nine extra wild symbols that will get added for a free respin during the game.

Wild reels: There will be a free respin triggered, and you have the chance of having the whole reel covered with wilds. You could also end up with nothing, so be warned.

5 Hit Feature: Here, you have to spin a wheel and there will be one symbol that you need to choose so that you can get five of the same symbol on a free spin. The stacked princess symbol pays the best in this particular feature.

Bonus activation: When you get three of the dragon bonus signs, one scatter bonus round will get triggered.
Sure Win Free Spins: You can get ten free spins and the guarantee is that you can win a minimum amount of your wager back in this round.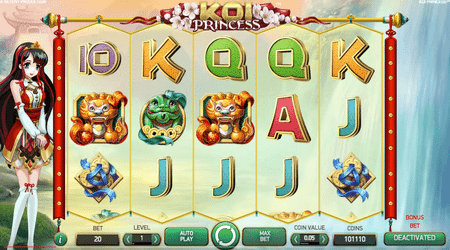 There are other great bonus features in this game like wild reels free spins, the bonus wheel and coin wins. Just try playing to discover them all!
Why play Koi Princess?
You should only give Koi Princess a miss if you absolutely detest bonuses and have no interest in getting guaranteed cash payouts. If you're sane, therefore, you will definitely be playing this wonderful feature filled game so that you can line your pockets with money. Go on and find out exactly why this game has everyone so delighted with all that it has to offer online and mobile!