Blackjack Platinum VIP | SlotFruity.com
Go Back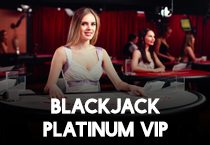 PLAY NOW! Blackjack Platinum VIP at SlotFruity.com
Blackjack Platinum VIP is an Online Casino blackjack developed by Evolution Gaming specifically for high rollers. The betting table is uniquely designed with a stylish grey colour on display. This game has very impressive dealers, and the maximum betting limit is £250. Read on to get more information on the game's features and how the blackjack is played.

Benefits Of Playing Blackjack Platinum VIP
With Blackjack Platinum VIP you have an Online Casino game that is played at a rapid pace. Players can expect live streaming from Riga, Latvia. The streaming is smooth and in high definition.
There are also multiple camera angles available to enhance the gameplay.
As the name implies, this is a blackjack for VIP's and comes with high betting limits. The exclusive blackjack also has a custom built table with an elegant colour theme that should appeal to high stakes players.

Some Game Rules Available – Blackjack Platinum VIP
This game is played with eight decks of standard playing cards. The dealer draws cards till "16" is achieved. However, the dealer will always stand on "17" on the drawn cards. The initial cards dealt with a player can be split by the player.
The player can also double down on his initial cards if that is his preferred option. As a player, you can split just once, and only one card may be added to split Aces. A 'Blackjack' has a payout equivalent to 3:2 while the payout for 'Insurance' is 2:1 in Blackjack Platinum VIP.
Playing Blackjack Platinum VIP
This game is an online casino game that offers standard gaming rules, fast live action and high betting limits. Initial bets are expected to be placed by players within a short before time. While the minimum betting limit is set at £250 by default, the maximum betting limit is dependent on the house rules of the online game provider used.
There are also 'Side Bets' allowed in this game. Some of these bets include 21+3, Perfect Pairs and Insurance side bets. There is also a Bet Behind feature allowed in which players can place bets even when there is no available seat at a betting/playing table.

To Sum Up
Standard blackjack playing rules apply in this game designed with high stakes gamblers in mind. The live feed is of very high quality and the multiple cameras add to the game's gameplay and your overall playing experience. Betting Limits are set at a minimal level of £250. However, the maximum betting level is set under the house rules of the online gaming site that players choose to play on.