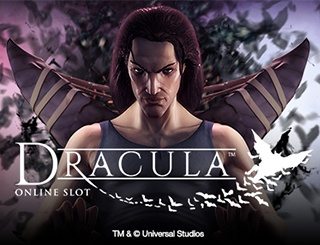 If you are wondering if the game is going to be as fearsome as its title sounds, then, yes, you are right. The faint-hearted who can't even watch a horror movie and then go to sleep by themselves best stay away from this one. For in Dracula, you accompany the prince of darkness himself in his quest for blood and yours for money.
Sinister and creepy
This game from NetEnt has been produced in conjunction with Universal Studios and uses the character from their popular Dracula movie that came out in 1931. The game begins with a small sequence of a maiden running for her life, and finally stumbling in a dark alley – after which she is pounced upon and we fade to black. Then you are taken to your reels where a brooding vampire watches you as you spin the reels.
You can't help but feel a little creeped out as he watches you spin the reels. Every time you make a winning combination, he will hiss at you, so you will jump out of your skin a little at the most joyous of the game's moments. Definitely, not a game for people who can't sit in a dark room by themselves.


Dracula has 5 reels, 4 rows and 40 pay lines. You can start your game with as little as 20p to as high as £200 for a spin. The game has stacked wilds that can give you more winnings. There is a bat feature during which bats can fly onto the screen and turn all the symbols into the same symbol so that you can increase your winnings. This happens at random throughout the game.
You can get free spins if you get a stacked Dracula symbol and a stacked lady symbol. During the free spins feature also, you can look forward to the Bat feature getting activated and giving you more possibilities for some great wins.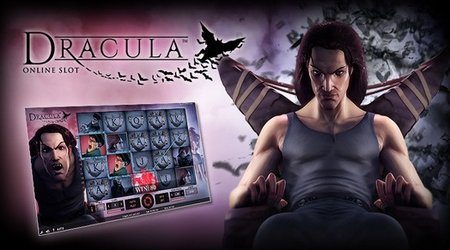 Why play Dracula?
Dracula certainly has some spine chilling graphics and animation that compose the main game. You will remain spellbound by the game's visuals and soundtrack, both of which are designed to keep you on the edge of your seat and make you want to play with the lights on. It is a low to medium variance slot game. It is improved upon thanks to the free spins feature and the random bat's feature, both of which are designed to give you higher payouts. If you are a fan of horror based games, this is a great game to play, as it has been extremely well designed. It has an RTP of 96.6%, so it's certainly a game that has a lot of potential for players everywhere.