Hook's Heroes
Remember the eternally young Peter Pan and how he was always trying to escape from Captain Hook? Well, in Hook's Heroes you get to play with the baddies and make the most of their rough misadventures so that you can get yourself some great bounty by way of the game's bonus features.
Playing on the high seas
Hook's Heroes has 5 reels and 20 paylines. The game has a distinct pirate theme, yet the pirates look more like kids who are dressed up and not being on their best behaviour, to put it lightly. The graphics are easy on the eyes and give the game a cartoonish feel, while the Caribbean soundtrack will put you in mind of the days of Jack Sparrow. You can start your gameplay for as low as 20p to as high as £200.  


The game includes some interesting bonus features that will make you want to play it, even if you don't exactly prefer being on the side of the baddies. You have several features modes that are randomly activated during the game's free spins round. You can activate the free spins round by getting two or more scatter symbols. Two scatter symbols get you one free spin, and you have a random allocation of the feature mode. If you get three scatter symbols, you get free spins and you get to choose which of the features you want to use. Four scatter symbols lets you choose a feature twice, while five scatter symbols allows you to pick a feature three times.
The Fairy feature comes with seven free spins. In this mode, Tinkerbell grants you 2 – 5 additional wild symbols that can appear on any of the reels. In the mermaid feature, you get ten free spins and a 2x multiplier. If you win using a wild symbol, you get a 4x multiplier. The Pirate feature gives you 15 free spins and you can win depending on what signs you see on the reels. You do not have any wild symbols in this feature.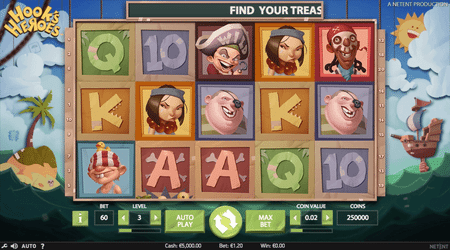 Why play Hook's Heroes?
Hook's Heroes has an eery theme, what with you being a conspirator of murderous little children who also happen to be money-hungry pirates, but the game certainly offers a lot of features that you can make use of to convert those wagers to cash opportunities. It is a low to medium variance game and the Mermaid feature can boost your payout amount with the 4x multiplier. If you can contend with the strange theme, there's certainly a lot to look forward to in this game, as long as you keep spinning and try choosing the mermaid feature if you get a choice of the feature round. Win Online and Mobile