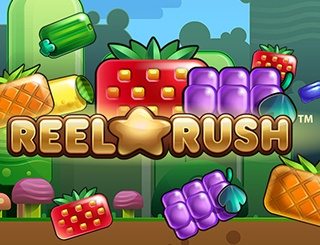 Remember those Super Mario games that had little blocks you had to bump to activate some exciting game features? Well, say hello to Reel Rush, a game that doesn't feature Mario or his brother, but will remind you of their strange and fun little world all the same with their choice of game graphics.
Fruity Fun
Reel Rush has the look and feel of a 90s game and features some clean looking animation. There are colourful block-shaped fruits that make up the game's playing surface so you feel that you are playing a cute little kiddy game.
NetEnt is, not surprisingly, the brains behind this fun game. The game is a true testament to NetEnt's usual style: vibrant, fun and gosh-so-very-cool. Even the game sounds have been configured to give you an adrenaline rush every time you make a winning combination. With smooth graphics like these, your eyes will be riveted to those reels at all times.


The game includes several features including wilds, respins and free spins. It has 5 reels and 3125 ways to win. You start playing with only 13 of the game's symbols revealed, so the structure may seem a bit odd at first. However, every time you spin and you manage to make a winning combination, two of these hidden symbols are also revealed, with every subsequent win you make revealing two more hidden symbols. That means you get a chance to win every time you spin those reels. If you don't win anywhere in between, the game goes back to the way it was on start up. This is the game's respin feature and it can be played up to 5 times.
You can trigger the free spins round in Reel Rush by collecting five strawberry symbols. This feature can give you 8 free spins. There's also the wild symbols in the game that you can collect to make a winning combination, and that can also be included to give you the respins that you so eagerly seek.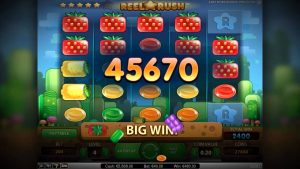 Why play Reel Rush?
Reel Rush is a great throwback to those classy and simple games of the 90s. There's also a hint of Candy Crush about it because of the colourful fruity symbols that make up the game's reels. You are bound to enjoy the game's respins and free spins features as that's the way you can carry away the most from this game. It also features some easy hints that you can access at any point during the game to explain a symbol, or to explain the 3125 ways to win feature, so you never feel lost or confused. All in all, this is a fun game to play for some quick slots action.